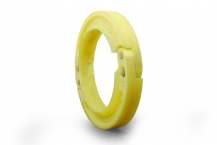 Where is run flat insert system offered by POLYMET manufactured?
MADE IN UAE RUN FLAT INSERTS
UAE's leadership supports the transformation of the industrial sector into a global manufacturing hub in UAE- even His Excellency Dr. Sultan Ahmed Al Jaber, Minister of Industry and Advanced Technology says and promotes this always.
POLYMET Industries LLC - RAK, a 20 plus year old, proven and trusted manufacturing house of bearing system for bridges, building, metros, and mono rail system, for project in Middle East and other developed countries, has taken up the challenges to manufacture Run Flat inserts for local armoury industries on request to manufacture in UAE. MADE IN UAE .Now customers can procure from the trusted POLYMET facility and avoid inferior quality, parallel imported and brand duplicated run flat inserts without proper authenticated test certificates and or branding on the product. Being manufactured locally, supply time also is reduced.
How to identify tested and certified run flat inserts
As usual market is full of copies of products with spurious certificates. There is difference in the case of run flat inserts also. Any certified and tested run flat should be having manufacturer name printed on it with country of manufacturing and proper test certificate. As per industrial standards the certificate should not be more than 2 years old. Buyers have to look for
Should not be used in service – can be removed from service after a time period from another vehicle cleaned and resold.

Manufacture name properly and firmly casted on the product – Not a sticker or grooved

Clearly showing name of country where it is manufactured

Should come with a less then 2 years old valid test certificate witnessed testing and issued by Internationally Accredited Agency.

From an Internationally acclaimed manufacturer.
What you see on run flat inserts manufactured by POLYMET
Tested to finabel test run flat insert test made in UAE Dubai runflat run flats inserts insert punctured combat tire tyre military applications Meeting European Army FINABEL Agreement No. A.20.A (20.A.5) FINABEL Agreement Pneumatic punctured Combat Tyres defence and security sector defence UAE when deflated security sector finabel test run flat test report speed off road desert gravel road desert temperature deflated middle east climate sand burning desert test real combat situation deflated punctured uae dubai.
Are run flat inserts manufactured by POLYMET patented?
YES run flat manufactured by POLYMET is patented under United Arab Emirates Ministry of Economy and international law.
CLAIMS BY INVENTER for POLYMET
It is claimed two or three run-flat insert segments of equal dimensions and shape having an equal length of the circular minor arc, moulded using low heat build-up thermoplastic materials, are machine matched are bolted together tight in position with push-fit cylindrical T slot nuts and two bolt system, conical machined washer, with an external mechanical axial clamper where a high mechanical force is applied, will be inserted into two matching holes in adjacent segments, cast or machined, two-bolt system, works as a wedge protrusion clamp locking system, with flat washer on one bolt and conical machined washer with hole for second bolt, tightened to bring run flat inserts closer and bolted as a lock bolt giving additional clamping, major embodiment for tighter and safer clamping.
Hence the bolting and climbing system patented by INVENTOR for POLYMET should not be copied and reproduced manufactured or re-manufactured in UAE, re- manufactured in another country and imported into UAE or Middle East for selling or reselling, resold, purchased for selling or to be sold in UAE, Middle east and other part of the world these patent is applicable, which can lead to legal issues and legal damages.