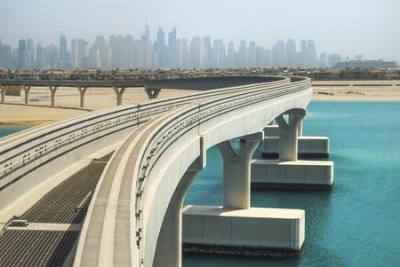 Monorail Palm Jumeirah Dubai UAE   is a 5.4-kilometre-long  monorail connecting  Atlantis Hotel Gateway Towers,located on Palm Jumeirah island in Dubai. Monorail connects  Palm Jumeirah to  mainland, with a planned further extension  Dubai Metro. The line opened on 30 April 2009 is the first monorail in the Middle East.
Construction of passenger monorail system  was done by Marubeni Corporation,  with Hitachi, Ltd., Obayashi Corporation and other parties, Marubeni,  sole main contractor, constructed  a straddle-beam monorail system 5.4 kilometers long with four stations. This  system consisting of four trains each with three cars, Obayashi and Oriental were responsible for  civil engineering and construction, while Tonichi Engineering Consultants, Inc. and Tostems, Inc. l provide  design supervision works.
The Palm Jumeirah a artificial island group created using land reclamation part  of three planned islands called the Palm Islands (Palm Jumeirah, Palm Jebel Ali and Palm Deira) which extended into the Persian Gulf, increasing Dubai's shoreline by a total of 520 kilometres. The Palm Jumeirah is the smallest and the original of three Palm Islands located on the Jumeirah coastal area of the emirate of Dubai, in the United Arab Emirates.
Pretread.com's roll was involved in design, manufacturing and testing of elastomeric bearings used in Palm Jumeirah monorail. Laminated Elastomeric bearings   used for elevated viaducts and stations and acoustic bearing pads  were developed by pretread.com  and all  of Elastomeric Bearings used Palm Jumeirah monorail  was supplied by Pretread.com, where  our in-house facility was used by Obayashi for testing of bearings, its functionality and its accessories  including bearing  palm jumeriah bearings monorail neoprene
Neoprene bridge bearings are easier to install compared to other types of bearing and require nil maintenance. Correctly-designed and suitably-compounded laminated Neoprene Rubber bridge bearings are expected to function efficiently for at least a decade. As efficient bearing parts for pre-cast, pre-stressed concrete or steel beams in bridges and buildings, Neoprene bearing  Pads permits a smooth and uniform transfer of load from the beam to the substructure and allow beam rotation at the bearing due to deflect ion of the beam under load further allow lateral and longitudinal movement of  beam caused by thermal forces. Neoprene Pads have no movable parts and thermal expansion and contraction are absorbed by the pad's ability to give and take in shear. There is no sliding motion between pad and beam or between pad and abutment.
Ours is  first laminated bearing manufacturing facility in Middle East established from 1999 to have an in-house bearing testing facility to carry out tests confirming to AASHTO /EN specification.All kind of bearings  to Vertical load of 10000 kN with horizontal shear load up to 1400 kN and movement up to 100 mm can be tested. In house facility to test neoprene physical properties including Ozone resistance. Under one roof with stringent quality control, ISO certification with technical and marketing support from Technical Partners neoprene bridge bearings, ptfe pipe supports, laminate elastomeric bearings, bearing pads, pot bearings, PTFE sliding bearings  are manufactured  to AASHTO / BS / DIN specifications.