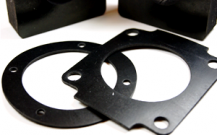 Pretread.com reliable manufacturer  from UAE of high quality rubber gaskets, seals, and custom rubber products offers effective designing and manufacturing solutions for rubber gaskets meeting customer demands and  application. Pretread.com offers  high performance gaskets and sealing products, on-time delivery.  We maintains a modern manufacturing facility with experienced  professionals enabling  to consistently meeting customer specifications and tolerance requirements.
A rubber gasket is primary sealing product used to fill gap or space between mating surfaces to prevent leakage  from or into the joined objects  under compression ad pressure. Pretread.com manufacture rubber gaskets in a wide range of rubber materials including: Neoprene®, Silicone, EPDM, Viton®(Fluorocarbon), Nitrile (Buna-N), SBR (Red Rubber), Butyl, Natural (Gum) Rubber, Polyurethane. These comes with and without Cloth-Inserts with different elastomers offer different mechanical and chemical properties, and custom compounds to meet specific high performance applications.
Types Of Rubber Gaskets
Pretread.com offers selection for manufacturing processes offered ; water jet cutting  hand die cutting, rubber molding, rubber extruding. Our in-house high pressure water jet cutting machine with bed size of 2 Meter x 6 Meter  allows us to cut single gaskets of any  specification with special inserts and thickness even up to 50 mm. Sizes can be  in diameter of 2 meter  or 2 meter by 6 meter. Custom made Rubber gaskets can be provide with an extensive range of elastomers with and with out inserts to choose from. The most common types of rubber compounds used to make  gaskets  are listed below. 
Neoprene  Rubber Gaskets
Silicone Gasket (Silicone Seal)
Silicone Gasket (Silicone Seal)
Viton Gasket (Viton Seal)
EPDM Rubber Gaskets & Seals 
Nitrile (Buna-N) Rubber Gaskets
SBR (Red Rubber) Gaskets
Butyl Rubber Gaskets
Natural (Pure Gum) Rubber Gaskets
Custom Polyurethane Gaskets
Inserted Rubber Gaskets
Cloth-inserted Rubber compounded sheets is machine cut from a    (SBR, Neoprene, EPDM, Buna-N) rubber sheet with a  cotton, fiberglass, spun polyester fabric, nylon fabric impregnated in the rubber. Impregnation can be single or multiple layers.  Cloth reinforcement improves dimensional stability in flanged gasket applications offering high compression loads. Inserts of fabric etc reduces tearing of gaskets when fastened to proper torque. 
For more details, and prices for your gasket requirements please contact us.