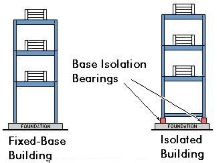 Building structural design has taken a considerable change over the last decade. The sizes of spans have grown bigger, difference of internal and external temperature has become greater and global warming has changed climatic changes. These factors have exerted great demand on elastomeric bearing design and requirements. New polymer types and combinations with Stainless Steel have paved way for new designs. Thus from ARP we offer a combination of elastomeric sliding bearing with ptfe known as ARP-NEOSLIDEPAD for PTFE Teflon sliding bearing requirements.
ARP-NEOSLIDEPAD - (PTFE Sliding bearing system with Stainless Steel Top and Neoprene Protective Seal) are specially designed, manufactured and assembled with a combination of polyamide or steel reinforced neoprene bearing pad with PTFE top and a SS 316 plate sliding over top of it and whole unit protected with a soft neoprene seal. These ptfe sliding bearings are self lubricated and can be used for the application of sliding bearings, teflon sliding bearings, ptfe sliding skid pads and teflon sliding structural bearings We are one of the fmw bearing manufacturer who are specialized in hot bonded ptfe to Carbon Steel.
These teflon pads can be used for the application for skid pads, were heavy duty ptfe skid pads or teflon launch bearings for bridges to avoid expensive scaffoldings. Ptfe teflon are available as plain teflon sheets or with dimples, dimpled to hold silicon lubrication used. These dimpled ptfe skid pads are hot bonded to bas mild steel. Using a combination of Steel reinforced Neoprene, PTFE Teflon, Stainless Steel and Soft Neoprene protective Seal, our ARP-NEOSLIDEPAD permits displacement of ± 25 mm. Maximum permissible pressure for steel reinforced pads will be 15N/mm². The total size of ptfe sliding pads will be minimum 60 mm>Neoprene /PTFE bearing.
The properties of ARP-NEOSLIDEPAD are exceptionally suited for reduction of bearing height compared to Laminated Elastomeric bearings, at the same time retains horizontal displacement and rotation.