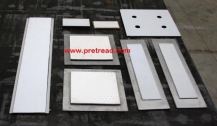 Ptfe sliding bearings ptfe teflon sliding pads.
Building structural design has taken a considerable change over the last decade. The sizes of spans have grown bigger, difference of internal and external temperature has become greater and global warming has changed climatic changes. These factors have exerted great demand on elastomeric bearing design and requirements. New polymer types and combinations with Stainless Steel have paved way for new designs. Thus from ARP we offer a combination of elastomeric sliding bearing with ptfe known as ARP-NEOSLIDEPAD for PTFE Teflon sliding bearing requirements.
ARP-NEOSLIDEPAD - (PTFE Sliding bearing system with Stainless Steel Top and Neoprene Protective Seal) are specially designed, manufactured and assembled with a combination of polyamide or steel reinforced neoprene bearing pad with PTFE top and a SS 316 plate sliding over top of it and whole unit protected with a soft neoprene seal. These ptfe sliding bearings are self lubricated and can be used for the application of sliding bearings, teflon sliding bearings, ptfe sliding skid pads and teflon sliding structural bearings We are one of the fmw bearing manufacturer who are specialized in hot bonded ptfe to Carbon Steel.
These teflon pads can be used for the application for skid pads, were heavy duty ptfe skid pads or teflon launch bearings for bridges to avoid expensive scaffoldings. Ptfe teflon are available as plain teflon sheets or with dimples, dimpled to hold silicon lubrication used. These dimpled ptfe skid pads are hot bonded to bas mild steel. Using a combination of Steel reinforced Neoprene, PTFE Teflon, Stainless Steel and Soft Neoprene protective Seal, our ARP-NEOSLIDEPAD permits displacement of ± 25 mm. Maximum permissible pressure for steel reinforced pads will be 15N/mm². The total size of ptfe sliding pads will be minimum 60 mm>Neoprene /PTFE bearing.
The properties of ARP-NEOSLIDEPAD are exceptionally suited for reduction of bearing height compared to Laminated Elastomeric bearings, at the same time retains horizontal displacement and rotation.
Physical properties of filled and un-filled PTFE used by us is available in downloads.
Design advantages of ARP-NEOSLIDEPAD:
Steel Reinforced Neoprene Elastomeric Bearing is bonded on top side with Ptfe (Teflon). Top sliding plate over Ptfe will be Stainless Steel 316 with mirror finish on one side. Un-filled Ptfe teflon sheet offered has low friction of coefficient 0.05 and with mirror finished steel, and being self lubricated, long term smooth sliding even at high pressure of 15N/mm². Neoprene bearing is covered in all sided by a soft Neoprene seal from protection of concrete seeps.
Size of this Protective Neoprene seal being greater than required movement; mirror finished bottom side of SS sheet will be protected from any scratches due to dirt accumulation in long service. Stainless Steel Top plate is placed in location over Neoprene Bearing using High Strength Adhesive tape. Complete system will be packed in thick polyethylene and delivered as a unit. Cut off area on both top and bottom sides will be marked on polyethylene and can be removed at the time of casting. Less expensive compared to heavy sliding bearing. Easy to install with in-situe concrete. Fit and forget system, we offer 50 years warranty Manufactured in UAE, less delivery time.
Some salient features and benefits of ARP-NEOSLIDEPAD;
(1) Do not have a shape limit factor can be custom manufactured to your requirements.
(2) Exhibit relatively high damping (C/Cc -.14)
(3) Creep effects are reduced to a limit of 5% of original thickness
(4) Operating temperature limits are -65°F (-55°C) to 200°F (95°C)
(5) Unusually high compressive strength -5Kg/cm² for polyamide reinforced pads and 15Kg/cm² for steel reinforced pads.
(6) Impervious to most oil and solvent traces
(7) Resist effects of steam, water, mildew and brine
(8) Can be supplied as a system in nominal thickness of 10 mm up to 50 mm.
(9) Combination of both vertical load and horizontal movements with rotation
(10) Faster delivery and accepted quality: Manufactured in UAE Dubai/
Ptfe- Teflon sliding pipe supports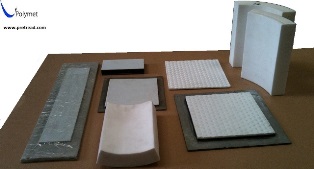 Teflon sliding bearing,dimpled ptfe teflon,bearing manufacturer,teflon-ptfe,sliding bearing,ptfe teflon sliding bearing,ptfe sliding skid pads,teflon launch bearings,hot bonded ptfe,teflon sliding structural bearings,ptfe sliding bearings, teflon sliding bearings,teflon skid pads,heavy duty ptfe skid pads,dimples ptfe skid pads,ptfe sliding beaing,self lubricated sliding bearing,www.pretread.com uae dubai,sliding bearing.
Elastomeric bearings with ptfe- teflon top sliding - dimpled ptfe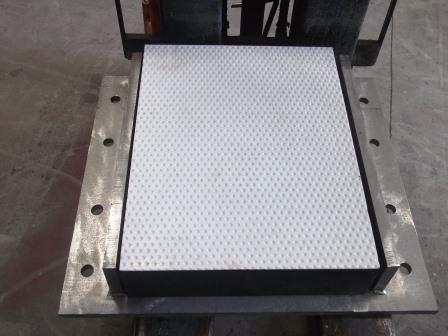 Some practical aspects and considerations when using pretread.com -NEOSLIDEPAD:
Provides vertical stability and allow controlled motion, Should be used with flat rigid support for best performance Recommend applying of a high strength epoxy mortar on bottom of Pad and an Epoxy resin with aggregate on top of Stainless Steel plate to work as a key and Connections to isolating system should be made flexible excellent for pipe supports.
Some typical applications ARP-NEOSLIDEPAD system include:
Buildings
Bridges
Floor isolations
Heavy Loading Areas
Military
Pipe supports
Mining
Pipelines
Railroad and Transit.
Our quality assurance.
Under one roof with stringent quality control we manufacture bridge bearings, neoprene bridge bearings, ptfe sliding bearing, sliding bearing, sliding stainless steel bearing, ptfe pipe supports, Teflon bearings, arp-neoslidepad, and Teflon sheet to AASHTO / BS / DIN specifications in the Middle East U.A.E dubai.
Please browse through our web site for more information and contact us for further details and inquires.
Thank you very much for visiting us.