Modern day construction requires large span and its movements for bridges, buildings and pipe lines with post tentioning www.pretread.com offeres the right solution for all these Sliding Bearing requirements. For example in newly developed Shopping malls and airports or any similar structure where spans are large and structural movements are over 100 mm plus or building amid structures in a seismic prone area with HDRB (High Density Rubber Bearings) with movements even much greater, effective and economical solution is to use ptfe sliding bearing combination with or without laminated neoprene elastomeric bearing. Both rectangular and disc type bearings can be supplied with ptfe TEFLON top.
TEFLON sheets are used as sliding top surface to manufacturing ptfe Teflon sliding bearing in combination with 316 Grade Stainless Steel mirror finished surface as sliding top proves excellent sliding control. Thickness of ptfe TEFLON sheets will be to AASHTO / BS / DIN / En 1337-2 specifications. We are proud to be the first one Middle East in U.A.E.to provide such manufacturing facility, with ptfe Teflon, there by high cost of import and time delay can be avoided.
Pretread.com is direct source for ptfe Teflon sliding bearings, Teflon bearings, ptfe, pipe supports for sliding, ptfe, manufacturer of ptfe bearing, supports for pipes, pipe supports, ptfe bearing, ptfe sliding bearings, TEFLON bearings, pipe support neoprene Bridge Bearings ptfe bearing, ptfe sliding bearings, TEFLON bearings, TEFLON sliding bearings manufacturer in the Middle East, UAE.All our rawmaterilas are of Europian origin and process is done in UAE.
Plain PTFE top Sliding bearing pads can be used for lighter loads and Laminated Elastomeric Bearings with ptfe TEFLON Sliding Tops for heavier load.
Pipe slides and Pipe supports
ptfe-Teflon and Stainless Steel Slide bearing plates are the only practical and cost-effective way of providing a smooth movement of mechanical systems for pipe slides and pipe supports. From www.pretread.com we manufacture and supply ptfe slide bearing plates consisting of ptfe Teflon and Stainless Steel for a variety of applications including support of piping, valves and heavy equipment's, pressure vessels, and structural steel members.
Concept of ptfe sliding bearing is a Stainless Steel plate with mirror finish slides on top of ptfe - TEFLON sheet which provides a surface mating with low coefficient of friction as low as 0.05 which can be attached to a supporting structure and this combination provides support as well as simultaneously allowing load to move (slide) freely along supporting surface.Sandwich concept is used when applying slide plates for ptfe pipe supports.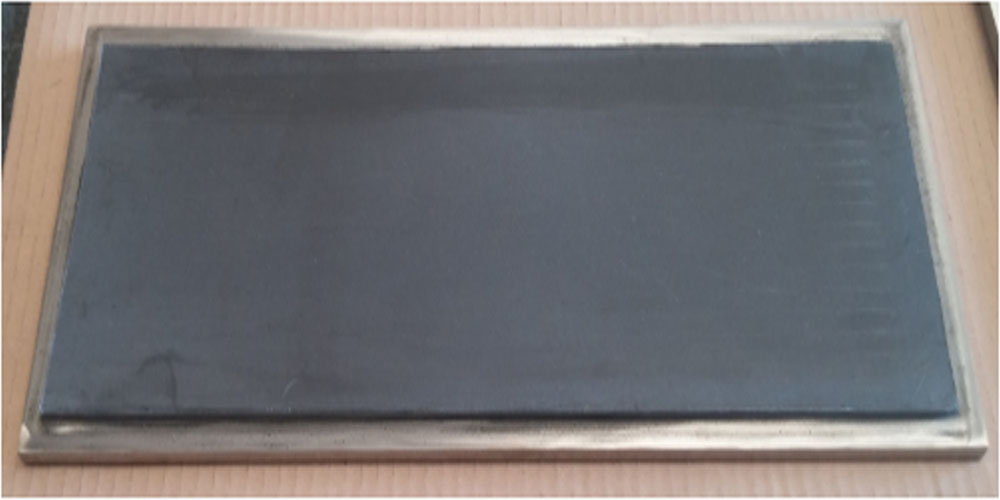 Our "pipe supports" are composed of two sliding elements, a metal backing plate (sometimes manufactured out of Stainless Steel 316 mirror finish grade)or Carbon Steel plates with SS316 clading and a low coefficient of friction material PTFE-Teflon, bonded to another metal backing plate. When pipe supported by Ptfe-Teflon and Stainless Steel Slide bearing plates moves (due to thermal expansion) it slide across surface of bearing plate without contacting the steel beam or supports. Top half of Ptfe-Teflon Stainless Steel Slide bearing plates is bonded to pipe, and bottom half to steel beam supports. We recommend using ptfe - Teflon and stainless steel as both resist oxidation and long services even in stressful, dusty, hostile environments.
Advantages of hot bonded dimpled ptfe-Teflon for pipe supports.
Dimpled Virgin ptfe -Teflon sheet is hot bonded to CS ( carbon steel ) base plates using proprietary hot bonding method at temperature of 160 degree C or above and at a pressure of 250 Kg /cm2 which provides much higher peel-off strength between CS plate and ptfe - long service life. Surface irregularity formed during long term sliding movements reported between SS plate and ptfe-Teflon under varying vertical load seen in conventional pipe supports is totally avoided with dimpled ptfe-Teflon with silicon grease - long service life. High melting point Silicon grease applied between dimpled ptfe-Teflon and top SS 316 plate will stay in dimples to provide a Lower friction coefficient between ptfe - Teflon and SS316 - long service life.
Ptfe-Teflon offered will be of European origin with necessary certifications - quality assurance. Size and thickness of ptfe sliding bearing and pipe supports can be designed to your requirements once data on vertical load, and horizontal movements are provided to us. Teflon and Stainless Steel provides lowest coefficient of friction for most combinations of temperature and load for pipe support.
Heavy duty Skid Pad Shoes
Our heavy-duty pate skid pad shoe is utilized in moving heavy equipment's and fabricated structures by sliding over skid ways. Heavy duty dimpled and filled ptfe is used to manufacture these skid pad shoes. Skid pads can be welded to bottom of structure and can be used to slide heavy structure on polished wooden planks or steel plates. Dimpled ptfe is bonded to metal using our special boding DSTech Polymer compound to Enhance maximum bonding between metal to ptfe. Dimples in ptfe retain lubricating greases, which brings down friction between ptfe and sliding surface into meager levels.
Attachment considerations for ptfe – TEFLON sliding bearings
Welding is most common method of attaching slide-bearing plate to supporting metal structures as pipe supports. When this approach is used a "lip" must be built since extreme temperature generated from welding may break, burn or damage bonding between low-friction ptfe Teflon and metal plate. A 15 to 25 mm "lip" is adequate for most welded installations. Areas where welding cannot be used (for safety or other reasons) bolting is most common substitute in ptfe pipe supports. Slide bearing plates and pipe supports are components of products for bearing system for buildings and bridges, and as a result, we have extensive experience in bonding Teflon and Neoprene to metal plates.
Our Ptfe-Teflon Stainless Steel Slide bearing plates and pipe supports can be applied for a variety of different applications such as:Liquified Natural Gas (LNG) Plants ; Liquified Natural Gas (LNG) Pipelines ; Liquified Petroleum Gas (LPG) ; Steam Water Pipelines ; Chilled Water Pipelines ; Chemical Plants ; Polypropylene Plants ; Polyethylene Plants ; Power Plants ; Generation Plants ; Nitrogen Production Plants.
Bonding advantages offered by DSTech Polymer Compound.
Our tested and proven DSTech Polymer Compound, a combination of high strength synthetic resins, especially developed for bonding ptfe to neoprene or to Steel surface is used with Ptfe sheets to bond for ptfe sliding bearings as well as pipe supports. DSTech Polymer Compound provides higher bonding strength as well as hardness, which maintains a rigid flat surface for ptfe to work with-out buckling under sliding pressure, which is normally seen with Conventional bonding system. We offer bonding strength over 12 kg/cm between ptfe and steel as well as ptfe and neoprene. Bonding is normally done by hot vulcanization process but resin bonding can also be offered. We use hot bonding process in factory which is much different for glueing at site.
Under one roof with stringent quality control we manufacture bridge bearings, neoprene bridge bearings,laminate elastomer bearings, elastomeric bearing, bearing pads, pot bearings,PTFE sliding bearing, molded, ptfe sliding bearings,TEFLON bearings,pipe supports, ptfe bearing, ptfe skid pads and shoes, pipe supports and TEFLON products in Middle East. manufactured to AASHTO / BS / DIN / EN 1337 specifications in the Middle East U.A.E.